Welcome to Cohn-Stone Studios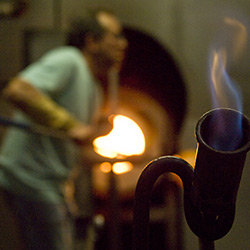 At Cohn-Stone Studios nature, inspiration, technical mastery and science come together at the hands of artists Michael Cohn and Molly Stone who create transcendent works of glass art that inspire collectors, museums and galleries around the world. The Studio is one of the nation's foremost producers of award winning hand blown glass art designs, decorative glass pieces and one-of-a-kind works of art.
A unique feature of Cohn-Stone Studios is a garden on-site, where inspiration flows to the minds of the artisans, and glass art finds its way back into the garden. Rare horticultural collections and displays are complimented by ever changing sculptural glass exhibitions.
The San Francisco Bay Area glass blowing studio is located in an industrial neighborhood in Richmond, California.